In addition to significantly enhancing the current PMO Assessment product, and improving the Organization and Program PMO Initiation and Implementation offerings, the Enterprise PMO Service focuses on increasing the probability of project success by building consistent enterprise-wide processes that:
Provide management with transparent visibility into project execution and objectively measure performance to manage risk and provide predictability
Deliver actionable recommendations so that management can effectively steer projects and make corrections proactively
Enable better project management
ESP's PMO Strategy
Many PMO implementations are unsuccessful because they are administrative and backward-looking. Our model drives to a proactively involved, action-oriented, predictive PMO that can affect project outcomes.
Our objective assessment pinpoints over 400 project management measures in 24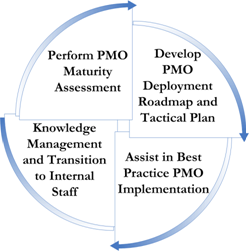 project dimensions from architecture through planning to delivery. In addition, it determines the degree to which best practices have penetrated the organization. Moreover, ESP works with market-leading tools like HP PPM and CA Clarity to apply them to meet our clients' unique needs.
The assessment yields actionable recommendations and specific steps to advance a PMO from an administrative to a predictive posture conducting objective and independent oversight that boosts project accomplishment and reduces unexpected failure. ESP then transfers this PMO expertise to our clients so they may continue to develop their PMO capability autonomously.