The Client
Large Financial Organization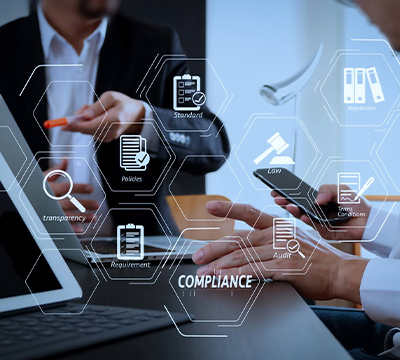 For the execution of business process, employees were spending substantial amount of time dealing with Enterprise Resourcing Planning (ERP), Customer Relationship Management (CRM), spreadsheets and legacy systems in manual repetitive tasks such as: typing, copying, pasting, extracting, merging and moving massive amounts of data from one system to another. At times above processes created Reputational and Operational Risks.
Our practitioners together with Clients analysts began by evaluating and prototyping automation technology on some of its customer business process. Initial Use case was carried out on a process for generation of a payment receipt. AS-IS process:
Customer calls and request the payment receipt
Front office employee creates case in CRM system
Back office agent opens the case in CRM

copies and pastes ID of the customer on the accounts receivable system and generates the payment receipt in a pdf file.
employee writes an email to the customer with the payment receipt attached
closes case in the CRM.
ESP consultants, reviewed and re-aligned steps within the process to have highly structured routines and manual tasks automated and be handled by a robot, so that employees have more time for value added tasks. Decrease human errors and remove possible Operational, Reputational Risks.
Implemented process:
Back office activities were assumed by a software robot (RPA)
Creation in CRM is done by a front office agent
Robot accesses CRM

copies customer ID and pastes it on the account receivable systems
generates payment receipt
creates email and sends email to the customer
close case in CRM
For evaluating the results, employees involved in the operation were divided in two groups, one group with RPA and the other group without RPA. On the group without RPA there was front and back office employees, in the group with RPA there were only front office employees, since robot performed the back office activities.
Measures used for evaluating the results were case duration and productivity measured by the number of cases by employees on the evaluation period.
Productivity improvement measured by cases per agent, showed that the group with RPA could handle 47% more cases than the group without RPA.
This productivity improvement provided client with increase in its employee capacity by 67% on business process.
Even though per our review of some cases selected and measured by CoE, RPA has shown little less duration than the groups without RPA. One of the main reasons for this is that some skill workers could perform their activities very fast, even faster that the software robot that imitates human behavior, with the difference that one license robot could perform several cases at the same time.
As part of its transformation strategy, ESP proposed and assisted in creation a Center of Excellence as a platform for process innovation, development of new services, better customer experience and organizational performance improvement, through process automation and deployment of new technologies.